Interview with Michael Shea Zackin, Olive's Grove
BE (Barbara Ann Ewer, Bar-Lar)
MZ (Michael Shea Zackin, Olive's Grove)
BE: How did you become interested in Shih Tzu, and how long have you been in the breed?
MZ: In the mid 70's I was visiting my sister in New England, when she showed me a dog she had just bought for her invalid mother-in-law. She said the breeder was new to Shih Tzu, but thought that it would be a perfect choice to sleep in bed with mom. Being a horse person and definitely a "big dog" person, I looked at this little pile of hair and said laughingly, "You know, I don't know whether I can have the same respect for you anymore." To me, toy dogs had always been sort of an anti-dog. When she tried to shove it into my arms, I backed away like she had wanted to hand me a hamster. Finally, I relented and held the little thing. It took about 2 seconds and I was in love. Two days after being home, I saw a dog on a leash that was incredible. It was a black and white Shih Tzu in show coat. In reality, it was probably an older puppy. I was mesmerized by the flashiness of the creature and the fact that it carried itself down the street as if it was walking at Westminster. Here it was the same breed that I had just been holding that seemed to have love coming out of her every 12-week pore. "Yes," I said, "That's for me." I tucked it away, while I pursued my horse career. It was always something that was on the back burner.
It wasn't until the mid 80's that I finally said it was time. Richard bought me Olive for a mother's day present and it couldn't have been more apt. Things have never been the same for us since.
BE: Have you ever shown any other breeds? Or currently do so?
MZ: When we moved to our present house in 1986, I was having a terrible problem with the deer ruining my flower gardens. As fast as I could plant them, the deer destroyed them. I said, "Let's try a big dog living outside." I looked in the AKC Breed book and saw a Scottish deerhound. I didn't even know there was a dog bred just for this purpose and when I turned to the picture there were a whole slew of them lined up as if for an 8th grade graduation! The picture made me laugh so. It started a 15 year parade of deerhounds, some of which have done very well in the Breed Ring, although never shown by me.
Michael Shea Zackin
Photo

Olive's Grove Fair Ophelia (left)
with mother, Buis Olive Of Oil
BE: How did you come up with your kennel name?
MZ: "Olive's Grove" is my Olive . . . and all she began.
BE: Who were your early mentors? What advice did they give you?
MZ: Oh, there were so many. My original mentor was the late Terri Castellano. What a package of contradictions that one was! I sometimes felt I was at a buffet table, and while there was an enormous amount available, I'd sure better be careful what I picked. What I will be eternally grateful for is being able to tap into a line that was so to my liking. Ali-Aj had beautiful heads, fabulous personalities and still managed to be very sound, showy dogs. What I particularly liked about Terri was that she always could recognize a good dog whether it was her own or someone else's breeding.
BE: Where did you get your foundation dogs? Why did you choose those particular dogs? What were your earliest key breedings?
MZ: When I got Olive, it was clear to me that I wanted a good dog. Up until then, though I was importing fancy dressage horses from Europe and my dogs were all " collectibles." I guess I just thought that's how you got a dog. It just showed up. I had mixed breeds, a Great Pyrenees and an Old English sheepdog among others. All great dogs, but all dropped in my lap. It's funny because my concern with getting a good Shih Tzu was surely because part of me knew about the change my life would take. Consciously though, I just wanted a pet. I put a lot of homework into it, although, as I see now, not much of it was correct. What I came up with was that I just had to have a solid gold male. Of course, now I know I sounded like every pet person in the world. In truth, having trouble finding all those superficial qualities, prolonged things long enough, until I could come across the dog I was really meant to have. A gold and white female that I named Olive Of Oyl. "Olive" was a Gatsby granddaughter that was a settlement dog when Pat Leone and Ginger Buis disbanded their partnership. She was a pick puppy that ended up in Pat Leone's house even though Ginger was the breeder. She was small (ending up at 9.5 lbs) and beautiful. As beautiful as her eyes were, her personality was even more beautiful. She was a total celebrity and wherever she went, everyone knew it. There was no one quite like Olive and she truly became our child.
Right from the beginning, I wanted to breed her. I really did sound like every pet person you meet; but again, some deeper (or higher), part of me knew where I was going. I had never had a desire to breed a dog or a horse for that matter, but I knew that these genes were to be preserved! In 1990, when Olive was 5, I knew it was now or never, so I started the hunt for a stud dog. At this point, I had a friend who was very involved in breed and she was able to direct me to the very best. I saw many beautiful dogs, but they just weren't what I was looking for. I knew when I looked into the dogs eyes, I would know if the quality I looked for was there. I was getting very frustrated, when Pat Leone mentioned Terri Castellano.
When we went there, I was thrilled. I liked many of them, but I particularly like one she called "J.R.". Here was my dog. Well, as Terri studied the pedigrees she saw tons of Olive's relatives in J.R.'s. Ch. Ali-Aj Briden's Break My Stride was a "Smokey" son who shared lots of Gatsby and Lordy with my Olive. I had stumbled on to a wonderful line breeding, when I was just learning the term. Out of this first breeding came my Olivia and Sweet Pea. They had the huge dark eyes of both parents, dad provided more bone, and they both were blessed with the most laughing of personalities. This has never stopped being my key concern.
| | |
| --- | --- |
| Ch. Ali-Aj Briden Break My Stride, "J.R." | Ch. Ali-Aj Imus In The Morning NA, NAJ |
BE: Who was your first Champion?
MZ: When Sweet Pea and Olivia were still very small, I bought a JR son from Terri that I just loved. I named him Ali-Aj J.R.'s Jr Of Olive's Grove. In fact, I loved "Junior" so much, that I bought his mother Ali-Aj Leather N Lace. "Leather" was a mixture of Terri and Carol Freund's breeding. Junior was my first Champion and will always be one of my very favorite dogs. He also went on to Agility, earning an Open Title. Leather received her ROM in 1998. In that same period that I bought Junior, I also bought a teeny black and white puppy (Terri only sold him because she didn't think he would make size) that I named Imus In The Morning. He not only turned into a wonderful size, he had one of the beautiful heads ever seen on a black and white Shih Tzu. Imo was my second owner-handled Champion.
BE: How many other Champions have you owned/bred?
MZ: To date, I have 18 Champions, almost all owner-handled. Also, Richard and I together have put agility titles on 12 Shih Tzu.
| | |
| --- | --- |
| Ch. Ali-Aj J.R.'s Jr Of Olives Grove OA, OAJ | Ch. Olive's Grove L'il Richie Rich |
BE: Do you sell to others or just breed for your own needs?
MZ: Yes, I breed for myself, and the others are sold. Most go as pets, but unlike some breeders, I have no problem with that destination. They are the most wonderful of pets and I'm very excited to help people have a good dog. Sounds corny, but before I was involved with this, Olive and I would have trips to the Mall, where I would hear over and over, "I have a Shih Tzu, but it's nothing like that!" Well, I thought, "They should have one like that." I've been happy ever since to help in that endeavor.
Yes, I have sold show dogs to people and the majority of time, it's worked out wonderfully, but it is always with great trepidation. There is just so much that can go wrong. I've sold to Cheryl and Bill Lafferty of Mi Sume Shih Tzu and not only have they done a wonderful job with my dogs, they have become my very best friends. Sherry and Doug Bolinger (R-Magic Shih Tzu) have also finished dogs that they bought from me and it has been a wonderfully rich relationship.
BE: At what age do you consider a puppy a show quality, and sell them as such?
MZ: I make most of my decisions when the pup is 8-9 weeks old, although I don't let anyone leave the house until they are 12 weeks old. I try not to look critically at the ones I've chosen to keep for quite a long time after that. More often than not, what I saw at 8 weeks is what is there as an adult. In between, they can go through such appalling stages! In fact, my very best dogs, I've reacted to as soon as they were born. When my Richie Rich was born, I cried to my husband, " Come quick, this is the most beautiful puppy I've ever seen." When I saw a litter of three 3-week-old pups at Kathy Kwait's last winter, I smiled as I saw all that she is famous for. The perfect markings, the uniformity in the litter and more. Then as I picked up the last of the 4, I looked in to the pup's eyes and said, "Kathy, I gotta have her." It wasn't easy to get her away from Kathy, but my stomach had given me a message that I couldn't deny, and she now lives in my house as Tu Chu-Olive's Grove It's Grovette (pictured in this issue). I think many things go on that we don't necessarily understand, but they are of more worth because of it. Perhaps looking into some of their eyes, we are just meeting old friends.
BE: What are your thoughts on training puppies to get them ready for the ring?
MZ: When I first started to show I did a lot of training when they were pups, but then I was also trying to learn about showing myself. Now, since I tend to keep pups with good top lines and personalities anyway, I realize it's not that hard getting them ready for the ring. Plus, with the natural spontaneity of the breed, I don't feel much is gained by going over and over things. I also do less with Shih Tzu in agility training than I would do with another breed. I just don't think they overly benefit from lots of repetition. Also, I'm so busy with all the Agility work I do; it's hard to fit a lot of Breed Show training into my schedule. In both avenues, I spend more time just trying to tap into the joy they show naturally. When I take a new pup on one of my trips (agility or breed), I usually find by the end of the weekend of walking around the showgrounds and being in the motel that they are dying to be shown. I do find it important that the show is made into an event that the youngster is very much a part of. I don't think it's enough to just have them in an exercise pen or to walk the dog up and down a few times. Then, I show the pup in a puppy class where I'm showing an older dog and normally they learn in a few shows. It may be financially expensive doing it this way, but it's definitely less costly time-wise. I guess I have had to learn to do a lot of multi-tasking!
| | |
| --- | --- |
| Richard with Sweet Pea and Olivia | Olive's Grove Sweet Olivia ROM, "Livi" |
BE: Can a Shih Tzu be both a house dog and show dog?
MZ: You are asking the wrong person. My dogs have become famous for the amount of time that we spend walking free in the thickest of woods, whether they are coated or cut down. I'm known for a lot of things, but expert grooming is not one of them. To me, yes they can be the same, but that will only make a lot of people that know me laugh.
BE: Do you have a preference between dogs and bitches?
MZ: No.
BE: How many times would you breed a bitch in her lifetime?
MZ: Things like that are totally dependent on the individual bitch.
BE: Do you have dogs at public stud and if so what are your requirements for the bitches?
MZ: I have, but I have to be really sure of the quality of the bitch or at least the sincere intentions of the breeder to breed up.
BE: What do you feed and do you supplement at any time?
MZ: I am a distributor for a very high quality food from California, Flint River Ranch. They do not advertise, it is only sold word of mouth. I also use a high-grade supplement such as "The Wholistic Pets's Canine Complete." I add this to Brewers Yeast and Cracked Flaxseed. I give my older guys a Glucosamine Supplement for their joints.
BE: Of all the dogs you have owned, which are your personal favorites and why?
MZ: Of course, my Olive, whose very essence cascaded into mine, making it sometimes impossible to feel where she stopped and I began. My Sweet Pea and Olivia, giving me everything I wanted in my very first puppies and then more. I already spoke of Junior. Then there was L'il Richie Rich, the very light of my life, my bright penny. My Sidley, of course, and Dr. B and Ophelia and South…oh, I could go on for quite a long time.
BE: Do you use a handler or show the dogs yourself?
MZ: It had always been quite important to me that my dogs were owner-handled. As my interest in Agility grew, it became harder and harder to find the time to do it all. In the last few years, when I finally decided to at least let some of my dogs go to handlers, it really made me sad and also VERY nervous. I have to say though, as time goes on, it has made more and more sense for a handler to be fussing with coats, topknots and broken majors in order for me to be out running and laughing with my dogs at Agility Trials!
BE: What do you think is the biggest mistake owner-handlers make?
MZ: I think that owner-handlers often think they know much more than they do. I have also seen them putting pressure on their dog because of their own insecurities. Showing is a difficult arena and the dog's feelings should always be put uppermost.
BE: What is your favorite dog show class to enter and why?
MZ: Definitely the 6-9 Puppy Class. It's so much fun to show them their brand new world with no expectations, the only job is keeping them happy in there. If Open felt like that, I might still be showing as much as I used to.
BE: If you use a handler, what do you look for in choosing one?
MZ: What I've learned more than anything in my foray into the "client's" world is that your handler better be truly crazy about your dog.
BE: What was your most memorable win?
MZ: I have to be honest and say my Agility wins have all meant more than my Breed wins. Now come back and ask me again if I ever get a Best In Show!
BE: We all have done silly things and have embarrassing moments, please tell us one of yours.
MZ: Anyone who has shown with me, knows my difficulty would be in picking just one. Maybe the worst wasn't even in the class. I am obsessive about double and triple checking to make sure I have my entries with me in the car when I leave for a show. Not long ago, I was showing two bitches in a show that was over an hour away from my home. It was a Major on the nose. I was half way to the show grounds, with my entries on the seat next to me, when I happened to look in the rear view mirror and saw that I was missing a dog. I couldn't go on, because it would break the Major. I drove back home, way too fast, and got the second dog. I then drove at break-neck speed to try to make it back in time. The time grew late, and I still hadn't shown up, one of my competitors called to see if I was coming. "Oh yes," my husband said, "she had to come back to get the dog she forgot." I then had to drive up to a grooming tent full of people all acknowledging that they hadn't heard that one before!
BE: Do you prefer breeder-judges or all-rounders?
MZ: While I certainly like my judge to know the breed well enough to really know type, I have to say I've found more all-rounders are familiar with movement and soundness than many of the toy judges I've experienced.
BE: Name a couple of Shih Tzu, not owned or shown by yourself, that you feel were/are particularly outstanding, and why they were/are good in your opinion.
MZ: I truly loved "Lord of the Rings". I tried to breed to him at the end, but without success. I always loved "Gloria Vanderbilt" as well as "Jolei Jackpot", apologies for not knowing their full names. I thought, watching "Raggedy Andy" at the National, that I was really watching something extraordinary.
BE: What do you think are the most common faults in Shih Tzu today?
MZ: Bad eyes and head type. Also, there has been so much emphasis put on powerful rears that you so often see dogs whose fronts don't match their rears.
| | |
| --- | --- |
| Olive's Grove Fair Ophelia OA, OAJ | Ch.Olive's Grove Ecco-Qui OA, OAJ |
BE: What is the fault you just can't live with?
MZ: Bad eyes, bad head type, and, no self- carriage. To me it's not a Shih Tzu without self-carriage.
BE: How would you rate type, temperament, and soundness in order of importance?
MZ: As I said in the beginning of this interview, type and temperament are qualities I can't live without. I also can't find an unsound dog pretty, so how do you separate the three things?
BE: Which three words best describe the breed?
MZ: Laughter, depth of soul and NOT hair.
BE: Do you have any family members that show or are interested in getting involved in the sport?
MZ: As I said, my husband, Richard, is involved with Agility. He has his own agility Shih Tzu, Lorelei, who I don't run. Years ago, he put a little time in the Breed Ring, but then discovered agility and that was the end of his breed career.
BE: Are there any other people who have dogs of your breeding who have done well with them, either in the ring or as producers, that you would like to acknowledge?
MZ: Yes, most definitely. Both Cheryl and Bill Lafferty and Sherry and Doug Bolinger have my eternal gratitude and appreciation. They have both done masterful things with the dogs that I sold them as well as the ones that they bred to. It makes me very proud to see how they have furthered Olive's Grove as well as establishing their own kennel lines.
BE: Do you have a resident house mouse?
MZ: While there are 3x3's throughout my house both upstairs and downstairs, everyone rotates being loose a good amount of the time. While they are loose, there is also a dog door that gives them all the freedom they want. The more senior citizens are basically loose all of the time. Oh yes, we also have recently acquired a beautiful Japanese Chin named Pamela. I've wanted one for a long time and she now has taken over the house in any way she desires.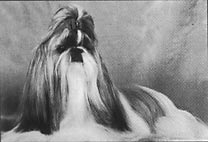 Ch. Olive's Grove L'il Lord Chumley
BE: Do you have any other pets besides dogs?
MZ: I have one lone horse left over from my Dressage days, an Oldenburg imported from Germany. There is also the one Border Collie, Theo, a relatively new addition, whom I consider quite undog like. He is my agility dog for the days we show up at the Trial, it starts to rain, and the Shih Tzu all say in unison, "Are you kidding?" I'll at least have Theo to run.
BE: What other hobbies do you have that are not dog related?
MZ: There are hobbies that aren't dog related????
BE: What are your plans for the future?
MZ: To figure out my time so that I can be in a position to enjoy my dogs even more than I do now. To find a way to have my house in order, the paper work up to date, the grooming inconsequential and to have all the time I want to just take them outside, whether it be in the agility field or the woods, to just play!
This interview was originally published in the March/April 2003 issue of The Shih Tzu Reporter, email: dogmag@fix.net
---